Yellowstone River
Whitewater Rafting
Yellowstone Is Calling.
It's Time You Answer.
When looking for river rafting near you in Gardiner, MT? Look no further than Wild West Rafting. Our friendly, and experienced tour guides will take you on the river ride of a lifetime. 
YELLOWSTONE WHITEWATER RAFTING
If you're searching for something to do on your next family vacation to Yellowstone, your search ends here in Gardiner, Montana—our base camp north of Yellowstone! Our whitewater rafting trips on the Yellowstone River are one of the ultimate family fun experiences. Prepare to get wet as you navigate whitewater rapids!
Read more
Not familiar with rapid classes? here's a quick rundown of the first three:
Class I rapids are easygoing, with only a few waves to tackle as you travel down the river. They also don't require a lot of technical experience to successfully avoid obstacles.
Class II rapids are for those who have a small amount of experience with whitewater rafting. It's still easy enough for beginners but offers more waves and obstacles.
Class III rapids have medium-sized waves with an irregular pattern that can get high enough to cover a raft. There are also powerful currents, but you should be able to avoid them.
Enjoy some peace and quiet while floating down the river and catching fish. Our fly fishing guides will happily assist you on this adventure! You have several options when it comes to fishing in Yellowstone National Park; The Madison, Yellowstone, Soda Butte, and so many other waters have great fishing to offer.   
You can stay out on the river for half a day or all day. We also offer walk-wade experiences where you can traverse the river to find the perfect fishing spot.
YELLOWSTONE HORSEBACK RIDING
Have you always dreamed of riding a horse through an open plain with the gorgeous Absaroka Mountains in the background? Dream no more!
We specialize in family-friendly horseback riding trips that take full advantage of our amazing mountain scenery. Our 1 and 2-hour horseback rides take you through the beautiful Gallatin National Forest. If you join us in the evening, you can also enjoy our Cowboy Cookout!   
Want to explore the Yellowstone River alone or with only one or two extra people? Reserve an inflatable kayak for each member of your group or add a couple of kayaks to your Wet or Dry Scenic Float. These kayaks are the perfect way to maximize your time on the Yellowstone River.
Kayaking allows you more control over your journey than rafting on the Yellowstone River. It's the perfect family-friendly activity for those who would rather create their own trail than follow where the raft takes them.  
YELLOWSTONE HIKING AND BACKPACKING
Yellowstone National Park contains a diversity of wildlife like no other place in the world. Bears, wolves, elk, bison, moose, and other large mammals share this vast ecosystem in the northern Rockies. Watch and observe the natural processes of the Park's grand landscape during a hiking or backpacking trip.
Get to know Yellowstone in its natural state while exploring areas typical tourist crowds miss. Choose between a guided hike that lasts five hours or one that takes ten hours. This is the perfect activity for those who love to keep moving.
Our Whitewater Rafting Experiences
There are plenty of options for our Yellowstone rafting experiences, so anyone of any skill level can enjoy the journey.

An All Day Experience
If you want to dedicate a whole day to whitewater rafting on the Yellowstone River, we've got you covered! These adventures feature Class I, II, and III rapids but an expert will guide you through the trip.
The trip crosses 18 miles of the river, where you'll see the beautiful Absaroka Mountains. The entire trip can take around four to five hours.
A Half-Day Yellowstone Rafting Journey
If you prefer a shorter adventure, don't worry—we offer half-day whitewater rafting, too! This experience lasts two hours and travels eight miles. It's the perfect balance between having an adventure while still leaving plenty of time for rest and other fun activities later in the day.

Private Boat
If you want to spend the day with your own group, we offer private boat trips. This Yellowstone rafting trip is more customized for your needs compared to other experiences.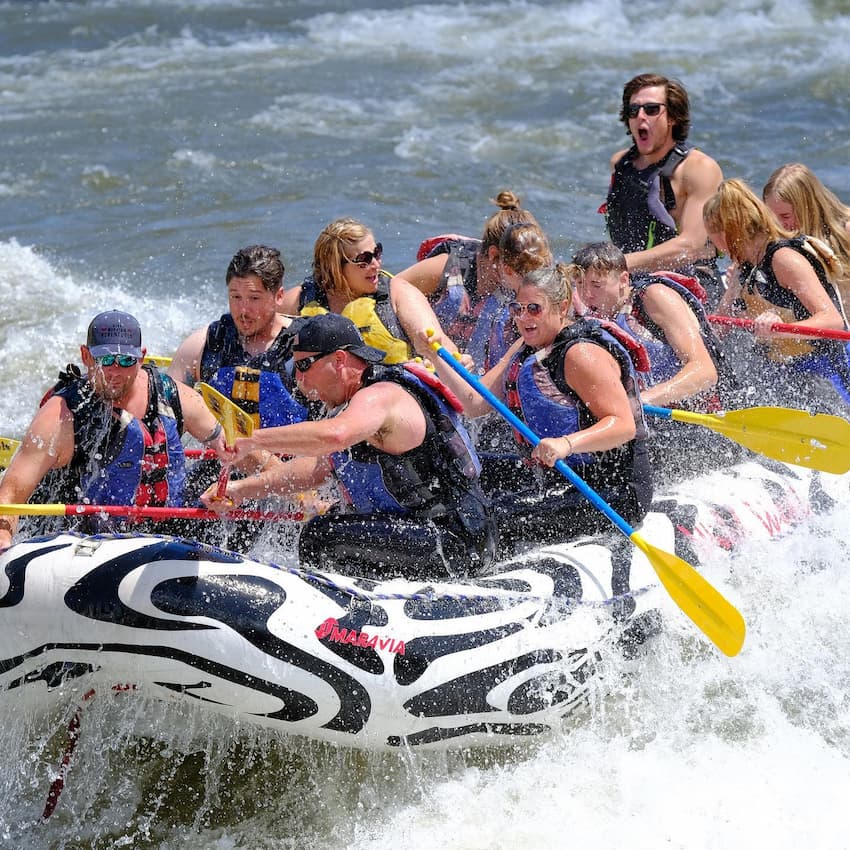 Other Rafting Trip Options
Check out the other rafting experiences you can have with Wild West Rafting.
Overnight Trips
Want to make your Yellowstone whitewater rafting trip last even longer? Join us for our 24-hour trip! You'll do the typical full-day rafting trip, then relax at a beautiful Montana camp for an authentic cookout with fellow rafters.
Wet or Dry Scenic Floats
Do you have kids too young for whitewater rafting on the Yellowstone River? No worries, our wet or dry floats let people of any age join! A rafting expert navigates your raft so it can easily miss any major rapids, allowing everyone to enjoy the beautiful scenery.
Saddle & Paddle
Experience Yellowstone through rafting and horseback riding with this unforgettable opportunity. Enjoy an hour of serene horseback riding and then enter adventure mode with a two-hour whitewater rafting journey.
Don't Just Take Our Word For It
Awesome trip! Jake was an amazing guide. We did the 2 hour float on a hot Summer afternoon. Exciting rapids mixed with leisurely floats. Saw some wildlife along the way
We loved our riding experience! Our guide was awesome, so friendly and knowledgeable. The whole ride was fun. The scenery was beautiful!!!
We had such a great time on the river! Everyone on staff was so friendly, kind, patient and helpful! We enjoyed having all the mountains and points of interest shown to us.
Excellent half day trip. Our guide was knowledgeable and she had great suggestions for other things do to in town. The river had great conditions. We got to see a lot of wild life!
Great rafting company! We did the full day whitewater which I highly recommend. It was a really fun experience! All the guides were a lot of fun!
Visit
202 Main Street
Gardiner, MT, 59030
Hours
Open Everyday: 7am - 10pm